TradeMed
provides a sophisticated, yet easy-to-use B2B platform for sourcing medical equipment. Founded by
Globetech Media
, with its wealth of experience as a market leader in global medical publications and web portals,
TradeMed
seeks to change the face of the medical equipment marketplace. We connect buyers and sellers through a safe, secure and dynamic platform. Unlike other trading sites that may include medical devices as part of a general sales package,
TradeMed
is solely dedicated to medical products; making it the first choice for medical suppliers, hospital decision makers and buyers; regardless of size or budget.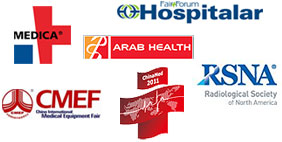 TradeMed
is the product of over three decades' experience and specialist knowledge in the field of medical media and B2B marketing. We also maintain a strong presence at more than thirty global events such as
Medica
,
Hospitalar
,
Arab Health
,
RSNA
,
CMEF
and
ChinaMed
. Our commitment to excellence and innovation guarantees you a custom service to suit your needs, and keeps you up to date with all the latest developments in medicine and medical technology.
The TradeMed marketplace enables suppliers to showcase their products, with a variety of options to suit their business needs. Buyers can shop, look around and connect with suppliers quickly and easily. Suppliers and buyers benefit by keeping costs down, expanding existing markets, creating new business relationships and increasing global export sales.
In short, if you're in the medical product business, TradeMed is the place to boost your business starting now. The buyers are already here.