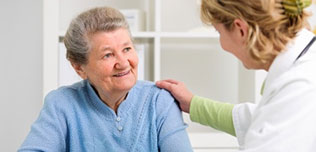 63 companies | 196 medical products
The Titan OB/GYN Stretcher is designed with functionality and convenience in mind, allowing caregivers to provide a more meaningful level of care to patients. Its key features include one hand-operated lowering leg section, a deep well storage area for patient belongings and an ergonomic design to help improve efficiency of healthcare.
More details

The UB-542 is a wrist blood pressure monitor provides a stylish slim body and large LCD with clock and calendar function that allows the user to recall morning (AM) or afternoon (PM) measurements as well as the average. It comes with an Irregular HeartBeat (IHB) indicator and blood pressure classification indicator, and helps users to find a tendency for morning hypertension by comparing the AM/PM/ALL averages.
More details
The TM-2430 is a compact & lightweight ambulatory blood pressure monitor with a weight of only 215 grams and the size of a cigarette pack, allowing it to be easily taken anywhere with a patient. It automatically adjusts proper cuff pressure, exhaust and end of measurement, and features a pulse correction algorithm for faster measurement & noise rejection.
More details