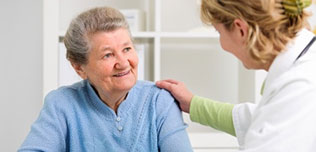 63 companies | 196 medical products
The FUSION Hybrid bed mattress offers either REACTIVE or ACTIVE Therapy and eliminates delays in support surface provision, increasing efficiency and releasing nursing time back to care. Made of high performance pressure redistributing foam with a multi-stretch, moisture-vapor permeable cover, it allows practitioners to immediately step patients up or down in-line with their clinical needs.
More details
The QUATTRO Acute electrically-operated, static low pressure or alternating air, mattress replacement system provides clinically-proven pressure relief, lower interface pressures and enhanced comfort. With its fully automatic pressure adjustment feature, it offers a proven solution for the prevention and treatment of pressure ulcers within all care environments.
More details
The InTouch is a fully integrated critical care bed featuring front wheel drive and a compact base for tighter turns and greater maneuverability. It allows all bed functions to be controlled with an easy, intuitive touch screen interface using a powerful on-bed Windows computer.
More details