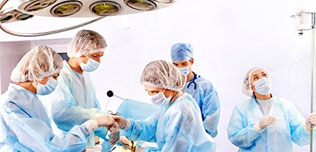 169 companies | 771 medical products
The TriLite LED S600 Series surgical lights utilize the latest generation of LEDs and advanced optical design to offer IR-free cold light and low power consumption features. It offers a unique Auto Shadow Management function (ASM) which automatically detects and corrects the shadow and heat above the surgeon's head.
More details
The iQOR mobile integration solution can be custom designed to integrate medical devices, medical imaging, clinical education, remote conference call as well as PACS / HIS health information system. It effectively integrates the operating room equipment, unrestricted by distance and time to achieve the best teaching and clinical records.
More details
The NOVEL NOT-5600 Series multi-functional electric operating table is designed for appropriate patient positioning, making it easier for the surgical team, C-arm, etc., to access and ensuring the safety and comfort of patients. The table can be adjusted in various required positions via a hand control, foot control, or auxiliary control, providing convenience for easy operation and quick maintenance, as well as long-term reliability and durability.
More details