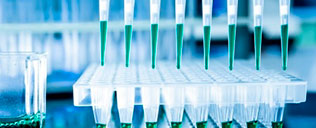 370 companies | 3102 medical products
The EXTRAlab is a liquid handling workstation for biomedical laboratories that fits a variety of protocols in molecular biology, genomics, proteomics and pharmacology. The workstation allows realizing a fully automated lab to perform dispensing, dilution and sample preparation, and its modular design enables easy reconfiguration to meet the customer's specific requirements.
More details
The OptiDet is an automated microbiology analyzer that correctly identifies bacteria in three minutes with over 90% specificity and sensitivity as compared to culture. It reduces culture preparation time by saving up to 48 hours of additional bacteria growth on isolation plates and does not need gram stains, specific culturing or reagents.
More details
The EIAgen line is a complete range of microplate assays with excellent performance, complete validation and maximum ease of use. The EIAgen assays are completely automated on Personal LAB, Personal LAB CLIA and GEN-4 instruments, and can satisfy the requirements of the most demanding laboratories.
More details