Hematology Analyzers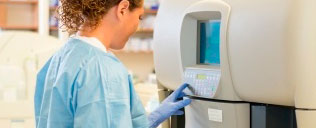 110 companies | 344 medical products
The BC-6800Plus is an automatic hematology analyzer that offers reliable routine CBC plus 5-part WBC analysis, along with higher processing speed and increased throughput of 200 samples per hour. Based on the new SF Cube technique platform, it provides more accurate blood cell results and abnormal cells recognition results along with anticipatory warning messages.
More details

The ACL TOP 700 hemostasis testing system offers continuous operation and access to samples, reagents and cuvettes at any time, allowing STAT samples to be introduced at any time, in any position. It has a throughput of 360 PT/hour and uses barcoded reagents for safe and fully automated materials management.
More details
The Yumizen G400 is a hematology analyzer with four independent measuring channels, 20 incubation positions, ready-to-use reagents, and easy to operate user interface. Other features include bar code reading capability, external data storage (USB device), integrated printer and reduced footprint.
More details