Hematology Analyzers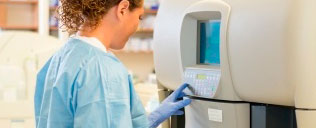 108 companies | 330 medical products
The CELL-DYN Ruby hematology analyzer requires only three reagents needed to perform a complete blood count (CBC) with 5-part WBC differential analysis, and reduces the need for microscopic blood smear reviews and repeat testing. It improves efficiency by providing rules-based annotations to standardize laboratory processes, thereby providing consistency in result handling among all laboratory personnel.
More details
The ACCELERATOR a3600 is a total laboratory automation system that combines informatics and lean principles to maximize efficiency by providing consistent, predictable sample management and help improve patient care by minimizing opportunities for error. It offers open third party analyzer connectivity, and its modular design allows for creating a customized design to fit any laboratory.
More details
The XW-100 is the first FDA-cleared, CLIA-waived hematology analyzer that provides complete blood count (CBC) results to physicians and their patients in as few as three minutes. It uses a 15 µL sample of venous blood to provide a CBC with three-part differential and has a compact size that conveniently fits in any facility.
More details