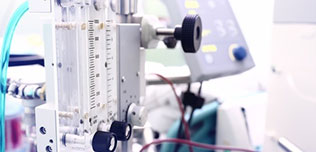 217 companies | 1057 medical products
The portable Avoximeter 4000 system provides rapid, accurate assessment of true oxygenation status at the bedside in less than 10 seconds. A comprehensive and complete evaluation enables critical decisions and treatments within seconds.
More details

The NT-proBNP-CHECK-1 quantitative antigen test is an in vitro diagnostic (IVD) immunochromatographic rapid test. When used in combination with VEDALAB Easy reader+ instrument, it can detect and quantify amino terminal fragment of the Brain Natriuretic Peptide (NT-proBNP) to assess cardiac disorders such as congestive heart failure. The test can be performed on whole blood, serum or heparinized plasma samples.
More details

Shaoxing Undis' newly-designed catheters with the closed suction system have a unique suction control switch and an ergonomic design that provides a comfortable grip, enabling easier and quicker suction action for caregivers. They also offer the convenience of single-hand operation to lock/unlock the suction switch, thereby preventing accidental activation.
More details