Neonatal/Fetal Care Products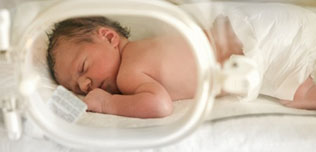 50 companies | 131 medical products
The B3 neonatal incubator is thoughtfully designed to provide stable temperature and suitable humidity ambient, in addition to configured vital signs monitoring function for promoting the growth and stability of even the most fragile of patients. Its dual resistive heating tube and fin-style radiator shorten the heating time of the incubator to ≤ 35 minutes, which saves time in emergency treatment of pre-terms, while reducing temperature fluctuation significantly to 0.3°.
More details
The C21/22 specialized fetal & maternal monitor has a structure designed with a damping axis to overcome the instability of the old touch operation, while the magnetic design allows the screen and the main unit to fit perfectly. It features a 12.12.1-inch LED backlit touch screen which is 0-0-90° tilt angle adjustable, making the monitor convenient for multi-angle observation.
More details
The Preaccu prenatal screening risk calculation software is suitable for prenatal screening of Trisomy 21 (Down syndrome), Trisomy 18/13 (Edwards syndrome, Patau syndrome) and neural-tube defects (NTD).
More details