Patient Monitors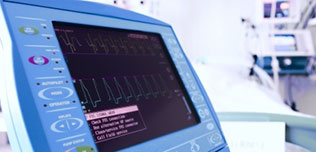 67 companies | 212 medical products
BM Central is a patient monitor central monitoring system that can be connected to 64 monitors (wired) and up to 16 monitors (wireless) for real-time monitoring data collection with support for dual monitors and up to 32 monitor displayed in one monitor. It offers multiple report formats with alarm events, waveforms: graphic & tabular trend, ECG review along with up to 10 days of file storage per patient for admin/discharged patient information, allowing users to make prompt clinical decisions.
More details
The AcuitSign M3 is a modular patient monitor featuring a 13.3-inch high-definition touch screen, and independent physiological and technical alarm function. It supports dynamic hot-plugging parameter module and allows for automatic data storage in case of power failure.
More details

TRANQUILITY II is a pre-configured, compact, lightweight, and Portable Patient Monitor designed for compiling, processing, analyzing, and displaying data from nine different parameters up to 72 hours trends time. The flexible and reliable adult, pediatric and neonate vital sign monitor is suitable for all types of settings including surgery, ICU, PACU, recovery, and emergency.
More details