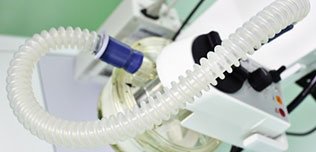 68 companies | 220 medical products
The PulmoVol25 incentive spirometer with a clear scale ranging from 200cc to 2500cc, and is therefore indicated for pediatric use, for the elderly and for all patients with reduced inspiratory capacity. Fully dismountable for cleaning operations, the mouthpiece, air filter and tube can be replaced, while visual indicators enable the therapist to set targets and indicate achieved results to the patients.
More details

Baumer Lung Ventilator is a flexible, critical care mechanical ventilator that ensures lung ventilation in the absence of spontaneous breathing, as well as supporting and complementing the existing spontaneous breathing effort. Applicable for pediatric and adult patients, the system is designed for stationary use within the hospital, as well as for any need for intra-hospital patient movement.
More details

The Athena 8500 is a pneumatic electronic control ventilator with precise ventilation function that integrates modern microprocessor technology precise measurement technology and air path integration technology. Featuring an intelligent design that makes operation much easier, it supports invasive ventilation of newborns and is suitable for ICU ventilation.
More details