Ventilation Systems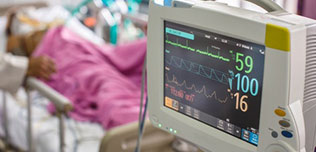 58 companies | 172 medical products
Baumer Lung Ventilator is a flexible, critical care mechanical ventilator that ensures lung ventilation in the absence of spontaneous breathing, as well as supporting and complementing the existing spontaneous breathing effort. Applicable for pediatric and adult patients, the system is designed for stationary use within the hospital, as well as for any need for intra-hospital patient movement.
More details

The Athena 8500 is a pneumatic electronic control ventilator with precise ventilation function that integrates modern microprocessor technology precise measurement technology and air path integration technology. Featuring an intelligent design that makes operation much easier, it supports invasive ventilation of newborns and is suitable for ICU ventilation.
More details

The VG55 non-invasive ventilator features a 15.6-inches intelligent capacitive touchscreen that can be rotated 90 degrees up and downwards for a clear vision at all angles. Its smart trigger combines pressure trigger and flow trigger to promote machine-patient synchrony, and SPo₂ and PR monitoring are also available which gives more references for clinical decisions.
More details