Network Solutions/Communication Systems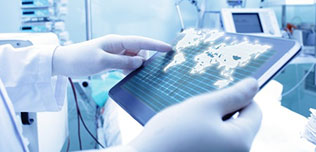 12 companies | 29 medical products
The ESRP-500-Real-time location system (RTLS) enables immediate location tracking and status monitoring of medical equipment, staff, and patients, infection control and efficient OR management. Stylish and user-friendly, it runs on Intel 8th generation processor for high performance and reliability, helping those in the healthcare sector to improve patient experiences, reduce delays, and maintain high quality of care.
More details
The LEO-L02 is a BLT tag for Real-time Locating System that is small, thin, and light, with various fasteners for attaching to equipment, assets or personnel, and sends a proprietary signal using Bluetooth Low Energy communication technology that allows a specific location engine to track its position. It automatically enters "sleep mode" after the tag has stopped moving for more than 10 minutes, while its robust plastic housing allows it to be cleaned with various cleaning solutions and its IPS5 rating enables washing or even showering.
More details
The iQOR mobile integration solution can be custom designed to integrate medical devices, medical imaging, clinical education, remote conference call as well as PACS / HIS health information system. It effectively integrates the operating room equipment, unrestricted by distance and time to achieve the best teaching and clinical records.
More details