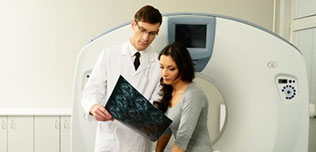 42 companies | 125 medical products
The SOMATOM On.site mobile head CT scanner features an all-in-one system design with integrated computers that grants further flexibility for patient scans in small rooms where additional trolleys would be a hindrance. The motorized trolley with an ergonomic drive handle allows easy driving and maneuvering to the patients' bedside, while the front camera offers visualization when driving and positioning the system.
More details

The uEXPLORER total body PET-CT system uses 40x greater sensitivity than traditional PET equipment and revolutionary real-time full body scanning technology to present the dynamic metabolic process of all organs in the human body. It accurately locates tumors throughout the body, monitors the micrometastasis of tumors, and offers continuous recheck and correction with minimal doses.
More details

The Revolution Maxima is a powerful, high-performing and reliable CT designed to maximize every step of the CT workflow, from referral to report. It features automatic AI-based Auto Positioning and an Xtream camera which uses real-time depth sensing technology to generate a 3D model of the patient's body.
More details