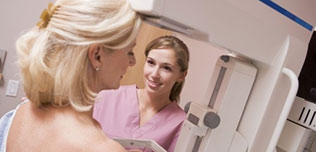 64 companies | 135 medical products
The Hologic 3Dimensions Mammography System offers a variety of groundbreaking features designed to provide higher quality 3D images for radiologists, enhanced workflow for technologists, and a more comfortable mammography experience, with low-dose options, for patients. The new 3Dimensions system features Clarity HD high-resolution 3D imaging, which provides the industry's fastest, highest resolution 3D images to accelerate screening and analysis. The system is designed to clearly reveal subtle lesions and fine calcifications to help pinpoint cancers early.
More details

RoseM 1824C is the world's first slim cassette-type digital mammography upgrade solution (retrofit) that provides exceptional image quality with 76㎛ pixel size (smallest in Csl) and fast image acquisition. RoseM is designed to allow for an easy upgrade on existing analog mammography devices through its broad and tested compatibility that perfectly works with all mammography units in operation worldwide.
More details

The MAMMOEXPRESS vehicle-based mobile digital mammography unit has the potential to reduce breast cancer morbidity and mortality by improving access to screening for women in hard to reach or medically-underserved communities. The MAMMOSCAN digital mammography system installed in the unit is designed with a high level of resistance to environmental factors, providing users with a high level of reliability that is not usually available in flat panel systems.
More details