Cart-Based Models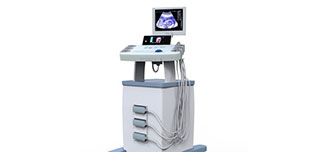 60 companies | 285 medical products
BioCon-1100 is the premium model of the CUBEscan bladder scanner series. The highest accuracy and enhanced data management will help you to perform a quick and accurate scan of the bladder. Save your time, save your effort!
More details

The EVO 1 Hemodynamic Ultrasound system is the companion device to the ClariTEE transesophageal echo probe. Together, they comprise the first and only one-of-its-kind advanced hemodynamic management platform for your most at-risk patients.
More details
The ClariTEE Hemodynamic Ultrasound probe is a miniaturized, disposable transesophageal probe that can be placed indwelling for up to 72 hours to directly visualize cardiac filling and function over time. It requires little training, is easy to use, and is purpose-built for critical and perioperative care. ClariTEE has a patented piezoelectric design providing high-quality imaging at 6 or 7 MHz with a penetration depth of up to 18 cm on the EVO 1 ultrasound system.
More details