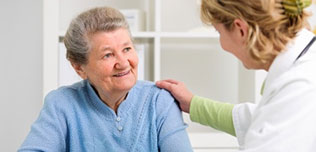 47 companies | 158 medical products
The Ergocard Clinical is an exercise testing system with high performance capabilities and accuracy, modularity and affordability in mind, featuring a special flow "pitot tube" transducer, while having the lowest resistance with insensitivity to humidity and turbulence. It features NDIR CO2 and electrochemical O2 sensor, making it ideal for cardiopulmonary exercise testing from pediatrics to high range athletes/sports medicine applications.
More details

Haelvoet's anti-decubitus bariatric mattress with extra high comfort is especially designed for use on bariatric beds and retains its elasticity even after extensive use. It consists of an upper layer of 10 cm of high quality visco-elastic memory foam with unique thermo active along with a highly elastic lower layer of 10 cm fire retardant polyurethane foam.
More details
The Helio examination table consists of a mattress platform with two or three sections and features an open undercarriage that increases the ergonomic ease for both the patient and the doctor. Its absolute vertical electric height adjustment feature frees up space around the examination table and eliminates the risk of obstruction or wall damage.
More details