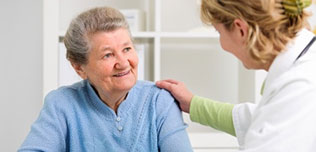 100 companies | 355 medical products
DETECTO's 6560 is a multi-purpose clinical scale for wheelchair weighing with an elegant, curved handrail that provides patient stability while weighing standing. The scale features 1,000 lb/450 kg capacity, units locking into Kilograms or Pounds, two-way built-in ramps for accessibility from both sides, large 32 in x 36 in / 81 cm x 91 cm platform, clinical-grade accuracy to 0.2 lb / 0.1 kg, battery or AC power, up to 99 tares (optional) to store wheelchair weights, and Wi-Fi/Bluetooth is available in some models for wireless EMR/EHR connectivity.
More details

SpiroCare is an all-in-one lung testing solution featuring a unique infection-free disposable paper mouthpiece solution that supports comprehensive test modes. It comes with a 7-inch color TFT touch with 800 X 480 resolution screen with six functional keys for easy-workflow, along with easy candle-light guide for testing accuracy.
More details
The VistOR PRO LED exam and procedure light for examination rooms with its large diameter LED array provides excellent shadow control – even with just a single light head. Pressing the center button on the sterilizable handle allows 5-stage dimming plus ambient light mode (for minimally-invasive procedures) for easy management of brightness within the illumination field. The VistOR Series offers a selection of three different-sized lights and provides unparalleled optics for ambulatory surgery centers, procedure rooms, trauma rooms, clinics and physician office.
More details