Disposables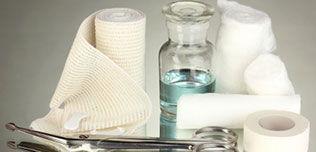 9 companies | 39 medical products
Perry Health's 3 Ply Disposable Medical Mask is FDA and CE certified, offering protection against viruses, bacteria and other dreaded pathogens that has killed many worldwide by effectively filtering the bacteria and viruses present in the air. The medical grade mask offers a 3-layer protection system of purifying dust, toxic gases in the air, and is made from dermatologically tested skin-friendly filter cloth, providing effective protection against dust, allergens, contaminants and deadly pathogens.
More details
Perry Health's FDA and CE certified Patient Examination Gloves are manufactured from 100% nitrile material to provide optimal protection and comfort and are rubber latex and powder free, providing more protection and eliminating allergies. Designed with a highly elastic fit and beaded cuffs to provide a snug, secure fit when worn for extended periods, the ambidextrous and disposable gloves offer tactile sensitivity for delicate patient care and help prevent cross-contamination between caregivers and patients.
More details
Perry Health's FDA and CE certified Disposable Medical Face Shield is transparent, lightweight, comfortable, breathable, and ideal for protecting the eyes, mouth and nose from flying debris, droplets, aerosols, sprays and splatters. Made of high-quality optically and distortion-free PE film, and treated with anti-fog and antistatic coating for maximum visibility, it comes with an elastic band and sponge headband for extra comfort, safety and long time wearing.
More details