Disposables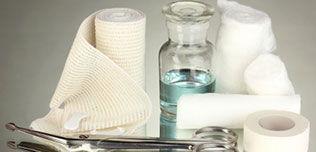 9 companies | 42 medical products
Perry Health's 3 Ply Disposable Medical Mask is FDA and CE certified, offering protection against viruses, bacteria and other dreaded pathogens that has killed many worldwide by effectively filtering the bacteria and viruses present in the air. The medical grade mask offers a 3-layer protection system of purifying dust, toxic gases in the air, and is made from dermatologically tested skin-friendly filter cloth, providing effective protection against dust, allergens, contaminants and deadly pathogens.
More details
Perry Health's FDA and CE certified Disposable Protective Suit For Medical Use is made of lightweight, non-woven fabric with film with a comfort fit design and is designed for full body protection from HAZMAT and contamination. The soft, quick dry, cloth-like fiber, full pullover hood, full zipper front, and elastic wrists and ankle cuffs help reduce exposure from dust, fibers, liquid splashes and sprays, while providing enhanced wearer range of motion and durability in use.
More details
Perry Health's FDA and CE certified Patient Examination Gloves are manufactured from 100% nitrile material to provide optimal protection and comfort and are rubber latex and powder free, providing more protection and eliminating allergies. Designed with a highly elastic fit and beaded cuffs to provide a snug, secure fit when worn for extended periods, the ambidextrous and disposable gloves offer tactile sensitivity for delicate patient care and help prevent cross-contamination between caregivers and patients.
More details