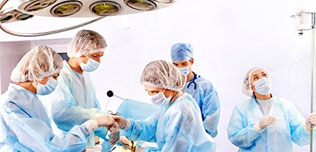 169 companies | 771 medical products
The Medical Modeling Virtual Surgical Planning (VSP) software tools combine production-grade 3-D printing with personalized surgery tools. The result is a virtual-to-actual operating room in which surgeries can be planned, tested, refined, and delivered economically.
More details
The Simbionix RobotiX Mentor is a robotic surgery VR training simulator that provides a comprehensive curriculum, including complete robotic clinical procedures with true-to-life graphics and tissue behavior. It provides surgeons of all expertise levels across diverse medical specialties with an opportunity to practice the skills required to perform robotic-assisted procedures.
More details
The Simbionix LAP Mentor is a multi-disciplinary laparoscopic training simulator with VR that provides the widest array of hands-on laparoscopic training available across multiple disciplines. The system features 17 training modules and over 70 tasks and cases, including general, gynecology, urology, bariatric, colorectal, and thoracic surgery.
More details