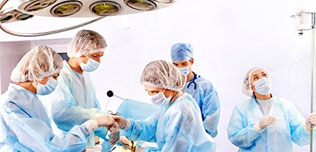 169 companies | 771 medical products
The EinsteinVision 3D system for conventional endoscopic laparoscopy offers Full HD visualization and the latest in 3D technology to optimize hand-eye coordination and help surgeons maintain high concentration. It increases precision by allowing surgeons to correctly pick up delicate structures, perfectly position suture needles, and precisely separate extremely fine tissue structures.
More details

The 3D Imaging System features an articulating, chip-on-tip design and dual optical channels to enable critical anatomical views in 2D and 3D that are simply not possible with traditional rod lens laparoscopes. It creates a compelling 3D experience and provides improved speed, accuracy and precision for surgical tasks while helping to shorten the learning curve.
More details

The 1688 AIM 4K Platform features several enhancements, such as brilliant 4K resolution and fluorescence, auto-light technology, better ergonomics and seamless standardization. It offers consistently bright, crystal-clear images for improved surgical visualization and is approved for use in a variety of specialties, including arthroscopy, laparoscopy, urology, gynecology, colorectal and ENT.
More details