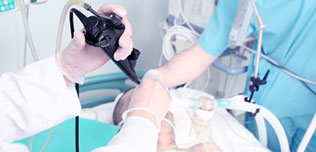 42 companies | 175 medical products
The i-view single use, fully disposable video laryngoscope reduces the risk of cross infection and incorporates a Macintosh blade which allows it to also be used for direct laryngoscopy. Ready to use seconds after removing from the packaging, its ergonomic design ensures ease of use, while the integral LCD screen provides an optimal view in a variety of light conditions.
More details

The ATMOS Scope is a flexible endoscope/stroboscope with a special new shaped ergonomic handle that allows for more comfortable holding and simplifies daily working routine. The flexible endoscope integrates the individual components, LED light source, camera and microphone into an all-in-one-solution.
More details
The ATMOS Endoscopy module (optional with LED technology) offers the perfect ergonomics for minimal space requirements with its compact design and provides excellent light quality. It features a sophisticated ventilation system due to which the endoscopy module is passively cooled, thus eliminating annoying (fan) noise and vibration.
More details