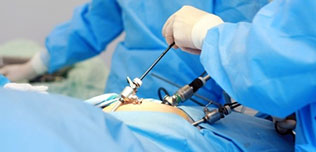 9 companies | 10 medical products
The PANOVIEW ULTRA range of laparoscopy telescopes offers improved depth of field, luminous intensity, natural colors and a modern ultra HD quality. Optimized for high-resolution image quality, they provide uniform sharpness right to the edge and are compatible with the existing systems, matching the same light cable that is standard with 10 mm telescopes.
More details
The Insufflator Highflow 45 provides the user with four individual need-based hardware versions and an intuitive operating concept to save time, improve control and provide outstanding support for the surgeon. It has a flow rate of max. 45 l/min to always provide adequate performance reserves in order to master every situation and comes with preset profiles for standard laparoscopy, gynecology and urology.
More details
The Simbionix LAP Mentor is a multi-disciplinary laparoscopic training simulator with VR that provides the widest array of hands-on laparoscopic training available across multiple disciplines. The system features 17 training modules and over 70 tasks and cases, including general, gynecology, urology, bariatric, colorectal, and thoracic surgery.
More details