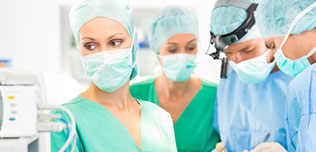 21 companies | 46 medical products
The VIO 100 C is a compact generator with proprietary VIO modes designed for specialty outpatient practices. Compact and lightweight, it has up to four storable programs and enables return electrode monitoring.
More details
The APCapplicator electrosurgical instrument features a light-weight ergonomic design and allows for convenient activation of all functions using one hand. Its ReMode function enables convenient toggling between program settings and modes, making it ideal for open and laparoscopic procedures, from incision and mobilization, to tissue ablation and homogenous coagulation.
More details
The EXCELL NHP/T range of electrosurgical unit for high surgery is composed of four models with touch-screen technology, including two models which are Argon integrated. Its capacity for making very thin slices makes it suitable for use in gynecology, orthopedics, plastic surgery, ORL, maxillofacial surgery, vascular surgery, general or thoracic surgery, pediatric surgery and emergency surgery.
More details