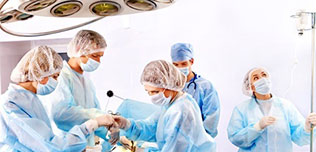 91 companies | 297 medical products
The TruSystem 7500 SensorLine surgical table offers intelligent functionality for increased safety and flexibility with configurable functions to adapt to all needs. Its features include overload protection, collision monitoring, increased adjustment speeds, iso-centric tilt, extended X-ray range and longitudient travel, among others.
More details

The HFease-400 is an electro-hydraulic surgical operating table that can be set up and positioned easily with a remote controller and has an interchangeable top made of shape memory material for providing great comfort. With its highly stable hydraulic system, the system can precisely and quietly meet universal surgical-positioning needs such as in neurology, ophthalmology, gynecology, urology, minimal invasive surgery, hand & arm surgeries, etc.
More details

The AlphaLED Universal light source uses innovative LED (Light Emitting Diode) Technology that eliminates changing of the lamp module. Its life time of a minimum 25,000 hours reduces its service costs and it comes with a universal light cable adapter.
More details