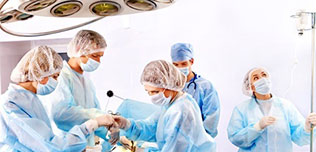 86 companies | 282 medical products
The Anteris operating table allows all movements to be performed manually by the pre-selector lever and hydraulic foot pump, ensuring double security. Its hand-held control in "reverse mode" allows normal operation of the table in reverse positioning while its memory foam pads prevents pressure ulcers and provides maximum patient comfort.
More details
The Quasar eLite Mobile provides all the advantages of a single, ceiling mounted operating light, but with the added benefit of being mounted on a mobile base. It provides a soft halo of light to reduce eye strain from high contrasts of light intensity and features an easy to clean, sealed light head, remote controls and anti-microbial coatings to minimize infections.
More details
The Cirq is a universal platform for robotic tasks, serving a range of neurosurgical indications, and is a reliable and intuitive assistant during surgical procedures. After quick set-p, the highly adaptable Cirq can be aligned in seven degrees of freedom for maximum positioning flexibility.
More details