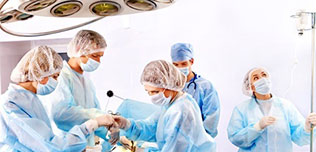 94 companies | 331 medical products
The Avante SLS 6000 surgery light is a reliable, economical halogen light that has been proven effective through years of use in operating rooms. Adjustable illumination, a high color temperature, and multiple mounting options make this light ideal for surgical procedures. The Avante SLS 6000 is available as portable unit, single or dual-head ceiling mount, or single-head wall mount.
More details
The Avante SLS 9000 Plus is a shadowless surgery light designed for bright, long-lasting illumination and provides up to 140,000 Lux at maximum intensity and is rated for 50,000 hours of LED life. Using the on board LCD touchscreen, clinicians can easily adjust the illumination intensity, color temperature and Chromogenic index.
More details
The DIXION Surgery 8500 is a manual hydraulic operating table that is equipped with a safe and reliable hydraulic system for height and section position adjustment. The table has five main sections with radiotransparent cover and comes with stainless steel and durable covers that are easy to clean and sterilize.
More details