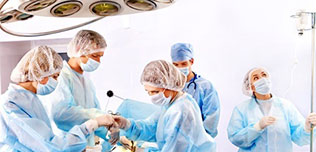 85 companies | 277 medical products
The NovaSure endometrial ablation procedure is a simple way to reduce or stop menstrual bleeding for women with abnormal uterine bleeding (AUB) and utilizes unique patented technology to deliver customized ablation to each patient. The device is inserted through the cervix to the uterus and emits precisely measured radio-frequency energy to safely remove the endometrium in a quick, one time, five-minute safe and effective procedure.
More details

The LUVIS L400 major surgery LED light system features 96 LEDs with a life span of 60,000 hours and a maximum light intensity of 160,000 LUX at 1 M. Available for single ceiling, dual ceiling and mobile installation, it has a color temperature of 3,600/4,200/4,800/5,400 and a head size of 73 cm.
More details

The TriMax 650NS Series of ultra low tabletop height and versatile operating tables allows for height adjustment from 530 to 1,010 mm, providing better ergonomic working positions for staff. Its ultra low setting allows surgeons to perform surgeries in a sitting position during longer-time surgery, such as neurosurgery, plastic surgery, endoscopic surgery, and MIS surgery.
More details