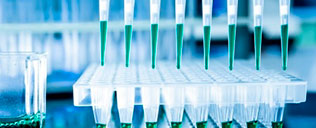 363 companies | 2940 medical products
The miniiSED™ is the newest addition to the iSED® family of Erythrocyte Sedimentation Rate (ESR) analyzers from ALCOR Scientific. The miniiSED™ measurement of ESR is fast, accurate and unaffected by variables associated with traditional methodologies, such as hematocrit. This single position, fully automated ESR analyzer works directly from primary EDTA tubes or BD Microtainer® MAP Microtubes, requires 100 microliters of sample, has an internal barcode reader, and produces stat results in 15 seconds!
More details

The QBC capillary centrifuge for dry hematology or immunology is designed for use with the QBC AccuTube and has a 20 tube capacity along with a nominal speed of 12,000 rpm (± 80 rpm). The lightweight and ultra-compact device offers preset runtime and speed and comes with an electro-mechanical safety interlock lid which must be closed and latched before the motor can be energized.
More details

The DLB5 hematology analyzer allows switching between 3 Diff and 5 Diff and provides results in 50 seconds (3-Diff) or 80 seconds (5-Diff) using only 10 – 30 µl of venous and capillary blood. The temperature independent analyzer does not require warm-up, and features a color display along with an integrated thermal printer.
More details