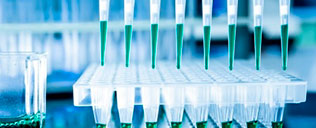 368 companies | 3028 medical products
The EXACTO® PRO HIV Rapid Diagnostics Test is a third-generation immunochromatographic assay, allowing the qualitative detection of antibodies against HIV-1 (including subtype O) and HIV-2 in whole blood, serum or plasma. The test is available in a self-test or laboratory testing format and has been acknowledged in the list of diagnostic test kits for HIV by the Global Fund.
More details

Instrumentation Laboratory's GEM® Premier™ 5000 analyzer with integrated CO-Oximetry panel is a revolutionary analyzer for point-of-care and centralized laboratory testing, offering Arterial Blood Gas (ABG), Electrolytes, Glu, Lac, Hct, tHb, O2Hb, COHb, HHb, MetHb, sO2, tBili, from a single sample. Self-contained GEM PAK cartridges incorporate all components for patient testing and are maintenance-free. Enhanced Intelligent Quality Management 2 (iQM®2) on the GEM Premier 5000 system is an active quality process control program designed to provide continuous monitoring of the analytical process; before, during, and after each sample measurement with real-time, automatic error detection, automatic correction and automatic documentation of all corrective actions.
More details
The single-use superior specimen collection and transport kit includes a universal transporting medium for the collection, preservation and transport of clinical specimens containing viruses (including SARS-Cov-2), chlamydiae, mycoplasmas or ureaplasmas from the collection site to the testing laboratory. The kit also contains flocked swabs which collect and release more secretions and cellular material than traditional swabs, thus improving efficiency in cell specimen collection and patient comfort.
More details