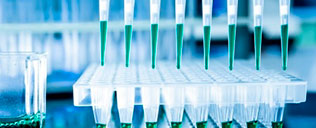 370 companies | 3102 medical products
The Vitamin A-E Serum HPLC Analysis Kit is intended for the rapid, sensitive and reliable quantitative detection of Vitamin A-E concentrations in human serum samples. It uses methods and procedures based on EN ISO 13485 and 98/79/EC and gives results in eight minutes with minimal sample preparation.
More details
The Neonatal Screening LC-MS/MS Analysis Kit for expanded newborn screening enables the diagnosis of over 30 metabolic diseases from a drop of blood samples taken from newborn's heel with a screening card. The screening test measures amino acids, free carnitine and acylcarnitines with isotope dilution tandem mass spectrometry and delivers results in less than two hours.
More details
The FX-2000 is a fully automated UHPLC system with optional sample preparation and detection modules and can be connected to any brand or model of mass spectrometry device to turn a mass spectrometer into a real walk away analyzer. It aims at fully automatizing chromatography analysis, eliminating user errors caused by manual sample preparation, addressing low throughput problem in chromatography analysis and lowering the cost of analysis.
More details