Clinical Chemistry Analyzer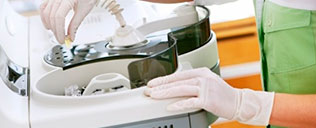 136 companies | 508 medical products
The BS-430 stand-alone chemistry analyzer utilizes HbA1c smart-sampling technology, which allows onboard automatic hemolysate preparation for whole blood samples, thus achieving shorter turnaround time (TAT) and eliminating any biohazardous risks or any errors by manual operation. It achieves a perfect balance between size and throughput with a uniform reagent package and software, making it a total solution for clinical chemistry with traceability to ensure the ultimate accuracy of the test results.
More details

The Singu40, Singu42, Singu44, Singu46 are the smallest size nucleic acid extractors (DNA or RNA extraction) with the fastest throughput. All the models use the membrane adsorption extraction method.
More details

The ILab Aries is a bench top analyzer that can perform photometry, turbidimetry and potentiometry test with a throughput of up to 280 photometric +160 ISE tests/hour to give a total of 440 tests/hour. The "Complete system" made up by instrument, reagents, validated applications and support guarantees full traceability of the sample result.
More details