EIZO GmbH Display Technologies
EIZO GmbH Display Technologies
Develops, designs, manufactures and sells display monitors and peripherals, and imaging system software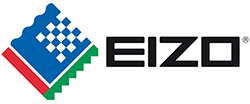 Recently updated
The RadiForce RX250 is a 2 megapixel high-brightness color monitor ideal for the accurate display of CT, MRI, and CR grayscale images and color images such as 3D color rendering and nuclear medicine scans. Featuring a new design and unique EIZO technology, the monitor provides both comfort and image precision to medical professionals.
More details
The RadiForce MX242W is a 24.1-inch widescreen monitor with DICOM Part 14 calibration support, smooth color reproduction, and screen management for increased work efficiency. Its LED backlight offers a significantly longer service life over conventional CCFL backlights while the wide viewing angles of the IPS panel allow users to view the screen from the side with minimal color shift.
More details
The RadiForce MX315W is a 31.1-inch medical monitor with an 8 megapixel resolution - the highest in the RadiForce MX-Series of clinical review monitors. It has DICOM Part 14 calibration support, and can display a variety of medical images at the same time including CT, MRI, and ultrasound, making it incredibly cost effective.
More details