ERBA MANNHEIM
Erba Mannheim is an IVD solutions provider focused on improving health outcomes in developing nations. Originally founded in India by Suresh Vazirani and now with operations in Europe and the US, Erba provides hospitals and labs with a full range of diagnostic instruments, reagents and support services to more than 10
...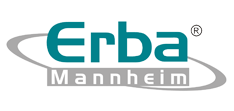 Gold member
Recently updated
The HB 715 automated desktop analyzer is intended for measuring glycated hemoglobin (HbA1c, HbA1ab, HbA1c, HbF, HbA0, HbA2/E/D, HbS, HbC). The analyzer has been developed for ease of use and low-cost operation with maintenance-free electrodes and a robust design.
More details
The EC 90 is an electrolyte analyzer with maintenance-free electrodes in an all-in-one sensor cartridge that directly measures Na+, Cl-, K+ and Ca2+ from whole blood, plasma, serum and pre-diluted urine. It can analyze samples in 35 seconds, with a typical throughput of 90 samples/hour and has 35µL and 70µL sample volume measuring modes.
More details
The ErbaExpert intuitive microbiology software is intended for the evaluation of microbiology samples with full modularity of different modes to meet the requirements of each laboratory. It operates in connection with or independently of the ErbaScan reader and offers a tutorial-driven environment that guides users through the whole evaluation process step by step.
More details